Commercial Interior Design
KP Seating have been working on complete commercial interior design schemes for over 40 years and have the strongest team to date. From design and manufacturing to installation on the premises, we offer a full commercial interior design refurbishment service. We have extensive experience across a wide range of establishments including city center bars, country pubs, high street diners, fine restaurants, golf clubs, garden centers, football clubs, schools, exhibition centers and offices. KP Seating can provide 2D floor plans and 3D generated visuals as part of our commercial interior design schemes to bring your commercial interior project to life and help you visualise the end result. Our project managers will guide you through each step of the way ensuring you are more than happy with the finished design and outcome.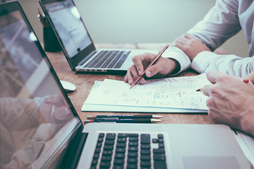 Design Brief
The first step is to outline the needs and vision of our client. During requirement meetings, we ask our clients to discuss what they want logistically and what they are hoping to achieve in the longer term. Our team will typically begin pulling together ideas, considering the most effective method for helping our client achieve their aims. We can also arrange interior licensing and building regulation approvals.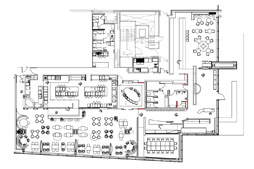 Flow and Space Planning
Space planning is an integral part of your fit out or refurbishment process. Our designers will space plan your new environment, applying clever and functional designs that meet your brief and improve your image. An efficient space for any commercial environment makes teamwork and collaboration easier, increases productivity and can save you money on unnecessary unused space that you are paying for.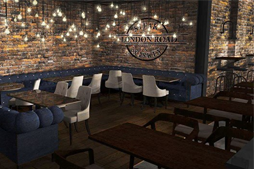 Visualisation
Getting the right designer for your bar, restaurant or hotel is a key ingredient to the success of your business. We typically use a combination of mood boards, concept sketches and presentations to reach a well-defined model that fits with our client's criteria. For larger projects we employ full 2D or 3D visualisations. We are also able to offer branding and logo design services to give your company a visual identity.
Some of our Commercial Interior Design Services include:
• Project management
• Design and layout planning
• Custom built bench seating
• Tables manufactured in specific materials and sizes
• Chairs manufactured to suit your required needs
• Commercial furniture recommendations
• Capacity calculation
• Colour matching service
• Fabric and wood finish recommendations
• Architectural plans
• Bar design
• Site surveys
We also offer optional paid extras within our commercial interior design package including; 3D commercial interior wireframe layout, 3D commercial interior design with fabrics and colour, video tour of commercial interior, logo and branding, design for signs, brochures, pamphlets and menus.
Call 01206 826110 or email sales@kpseating.co.uk for further information